In my day-to-day life, I work with a lot of people in business, and a common statement I hear — all the time — goes something like this:
"SEM mean paid search marketing, like Google Adwords campaigns.  SEO is the free stuff that requires optimizing your site for Organic Search"
And I hear this from a variety of people, from those who don't work with or understand the intricacies of the online search world, to experienced marketers who really should know better.
The truth is these statements are too simplistic & outdated to be 100% true in either case.
To the true meaning of the acronyms
SEM means Search Engine Marketing, which encompasses ALL things having to do with search providers such as Google, Bing, Yahoo, AOL etc., both paid and organic.
SEO means Search Engine Optimization, which – until recently – was primarily focused on optimizing a company's website so that it performed well (aka ranked at the top of the list) for organic searches.  But even that is not the case any more, as a company needs to optimize their pages to be relevant, even within the paid search space. 
To confuse matters even further, other terms being tossed around, and those which fall into subsets of each or both of these include:
PPC/CPC – Pay Per Click (also known as Cost Per Click).  This is a method of buying click-based advertising (most often within search engines) where you pay for each person who CLICKS on your ad.
SERP – Search Engine Results Pages.  These are the pages on Google, Yahoo, Bing, etc. that display after you search for a particular keyword or phrase.  Although some – incorrectly – define SERPs as being only the organic portion of the page, these pages display to the end user with a mix of paid and organic listings, so they should be treated as a mix.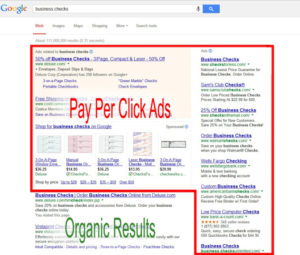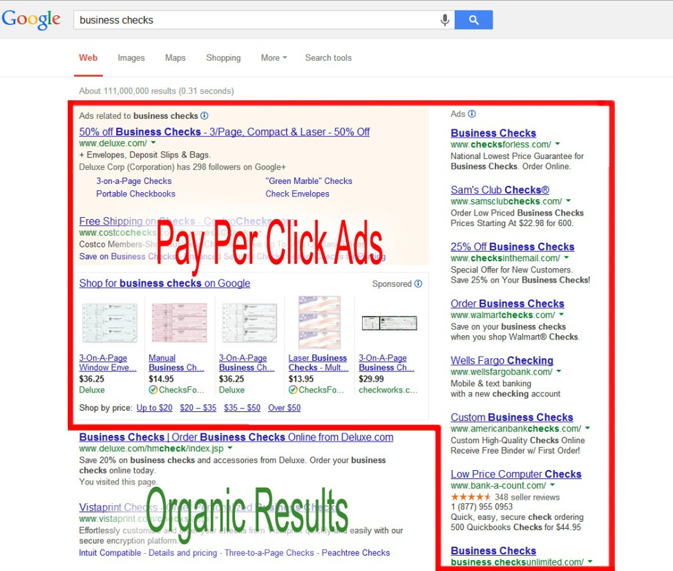 In the end, it is the SERP – or Search Engine Results Page – which is one of the main reasons why the differentiation between PPC, SEO & SEM needs to be reconsidered.  Even though many people claim to "ignore" paid search ads, your potential customer will see the entire page and will be influenced – in one way or another – by what is on that page in both the paid and organic slots.  In fact, a significant portion of your potential customers will not even realize and many do not care) that there is a difference between the two sections.
Others care so much; they purposefully aim for one section over another, depending on what they are searching for.
For example, when I'm searching for information, I usually skip the paid ads and go directly to the organic results as they tend to be much more relevant to my quest.  However, if I'm in a shopping mood, I pay much closer attention to the paid ads, as they tend highlight sites that sell a particular product or service I'm interested in.  Granted, I am an experienced online marketer… so my behavior is not typical.
Some supporting facts:
A 2012 study of 1.4 billion searches in the UK by GroupM UK and Nielsen showed the organic listing won 94 percent of the clicks, despite the fact that paid listings occupy a majority of the "above the fold" space on most SERPs. This trend does not appear to have changed in the last three years.  In fact, according to eConsultancy data, only 5 percent of Internet users between the ages of 2 to 17 will even click on paid listings, although the tendency to click on paid ads grew as age increased.
However, before you decide not to bother with the 6% who click on paid search ads, remember there are over 5 billion searches performed on Google alone every single day (based on their 2012 reported averages).  Even if only 6% of those searches result in a Paid Search Click, that's still over 300 million searches – per day.
Also, paid search visits have a 35% higher conversion rate for e-commerce websites compared with visits from organic search, according to a recent report by MarketLive.
Finally, various studies have shown that companies with both a high ranking organic link AND paid link show a 40 – 65% increase in Click Rate on their paid ads.
Although it is important to understand the difference between Organic Search Results and Paid Search Results, it is no longer one versus the other.  It is now one AND the other.  They now must, more than ever before, work hand-in-hand toward achieving the end objective of Search Engine Marketing.
In addition, when you consider the 'optimization' elements in PPC campaigns such as relevancy score, search extensions, product data feeds; incorporate external influencers such as third party reviews, relevant links and social media indicators and THEN factor in the clear link between organic rankings and paid performance, these two practices known as "SEM" and "SEO" can no longer stand on their own.
Instead, we need to look at the factors that influence overall search performance, including:
Onsite Factors


Onsite (otherwise known as On-Page) factors, such as optimized content, images, video, relevancy to the keywords, engagement, usability, page load time, etc. can and will influence both your quality score in paid search campaigns (which is one of the factors that determines your cost per click within these engines) as well as your ranking score in organic search (which is one of the factors that helps determine how high you rank when people search for related terms).
Down to the basics.  What this means is 'how likely is someone who is searching for keyword "x" going to be interested in what you have to offer on the subject?'  If that connection is clear and obvious, your site should perform better in paid and organic search than one that is not as clear and obvious.
Engine Campaign Settings

From what keywords you bid on (and which you specifically exclude) to the ads you write to the amount you set as your bid, these factors are critical in setting up a successful PPC campaign.
Constantly monitor your campaigns, bids as well as using Search Term tools within the engines to understand what customers are actually searching for when they click on your link to determine which keyword combinations to add and exclude. For example, if you bid on the keyphrase "Mortgage Broker" you may or may not want potential customers who search for the longer phrase "International Mortgage Broker" or "Mortgage Broker Jobs".
If your website is mobile friendly and your company or product makes sense to be found by people on the go, make sure you set the appropriate bidding strategy for mobile devices – as well as dedicated mobile ads, if appropriate.
Each of the major search engines have developed and launched ways to enhance your paid search listings with additional levels of details and options to make the experience more relevant for the users.  Review the various ad extensions that are available and determine which ones make sense for your company and your product.

Offsite Influencers

Formerly an indicator exclusively for Organic results, offsite factors can now play a role in both paid and organic performance.  Offsite factors are – in a nutshell – how well your company's site and/or product are regarded by reputable third party websites.  This can come in the way of relevant links to your site, reviews of your site and/or products or social media mentions, just to name a few. However, I stress the word reputable (or quality) third party websites. Just amassing a large quantity of inbound links will not only do very little good in today's search world, it can actually harm your site's ranking
These signals are critical to the success of a website in the organic rankings, but more and more of these third party endorsements are making their way into paid search results, such as Google's Review Extensions or Social Media Extensions which – for example – allow you to showcase your presence in FaceBook or a series of positive reviews n your paid ad.
By combining all of the factors of what we used to call SEM and SEO, you can create a Search Engine Strategy (SES) which encompasses the entire breadth of what search providers brings to the table.
As a marketer or business owner, it's important to know what these acronyms mean, but – in the end – it's more important to know how to connect your company to the prospective customers who are out there, right now, looking for you.
No matter what you call it, to be successful in today's online marketplace, a company must be found in search engines.  Ensuring that your site is fully optimized for both paid and organic search is a critical piece of the online marketing puzzle, and – without it – you could be missing out on hundreds, thousands or even hundreds of thousands of potential customers.